The Winey Mommy is a blog that I have just started following and she recently started a new blog meme to get people talking and connecting.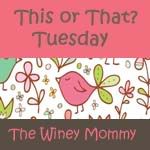 Today's This or That Tuesday question is,
Do you buy makeup at a discount/drugstore or some type of specialty makeup store?
There is a lot of makeup that I can't use, and I don't know it till I put it on, so I buy a lot and try even more. Because I do have darker skin there is a lot less from any one brand or in any one line that works too, so I shop around a lot and dip into all different collections without really having any loyalty or preference for any one brand.
Sephora is a favorite place to try/buy. Ulta for things that I know they carry and need. Drugstore for staples. Everywhere else for all the new stuff I am bound to find and fall in love with. Oh, Target has become my new favorite place to discover new lines that they drag in!
What about everyone else?