Anyone else here miss the This for That Blog Hop?! I know I do, it was such a friendly blog hop and I made so many new blogger friends and FB friends too, plus I think it is where I met most of the people I follow on Twitter!
Anyway, I know everyone that I follow has a blog hop of their own, but I have never started on here on my blog. With T4T gone, I figured it was time to offer something similar because I loved the concept so much!
So, this is the first of many, IF YOU NEED A FRIEND HOP! <--Inspiration from one of my favorite songs!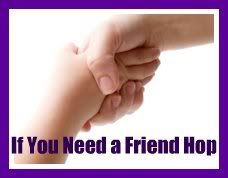 1. Need help with follows/votes/FB Likes/RSS feeds etc? Leave a link to your blog, FB page, Twitter and let us know what you need a friend for.
Ex. Link Title: Twitter Follow
Link URL: @chitownchica
2. Try and help out at least 3 blogger friends by friending/following or Liking the three entries above you. This way everyone gets some help and no one is left out. You can always like more!
3. Only enter if you have the time to do this now, I know we all get busy and even I forget to return to hops to help.
4 In response to the question. If you helped 3 bloggers you can add another request, but wait till 3 entries are made after your first so you can help again. Thanks!
I NEED YOUR HELP!
For my own request, I entered a contest on FB and I am just 300 likes away from the leader. There are 10 days left and I am seriously gaining ground. A lot of you are already my FB friends, so if you can take a minute to LIKE my photo I would love it!
Here is the link to my picture:
http://www.facebook.com/photo.php?fbid=714605477931&set=o.21508152068
You need to like the sponsor and then LIKE my picture to vote. Let me know you were there too!
This is a 3 day Linky, to give everyone time to follow/like etc. Have fun!